IN THE ANTICHAMBER OF
TUTANKHAMEN'S TREASURE HOUSE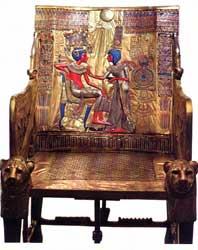 One of the most beautiful objects from the king's tomb is the wooden throne with lions' heads supports, overlaid with gold, silver, semiprecious stones, and glass paste. Although Tutankhamen presided over the obliteration of his predecessor's heretical Aten worship, the exquisite back panel of this throne could have been designed for Akhenaten himself. It shows Tutankhamen seated on a cushioned chair, attended by his wife. In the rear, the sun disk showers beneficent rays upon the royal pair.

From The Pyramids and Sphink by Desmond Stewart